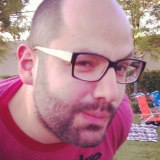 Welcome to My Big Website About Me. I am Tito Perez, currently living in San Francisco, CA with my wonderful wife, Monica. Despite compelling evidence to the contrary, I am not a man of many words – at least when it comes to talking about myself.
My favorite hobbies are music, reading, crosswords, and photography.
It is also a safe bet that you can find me on Tuesday nights tuned into wfmu.org listening to  The Best Show.
Some of you may know me on the web from my old blog at http://blackmarketkidneys.com/ or some other places I "exist":